Industrial Vapor Compression Solution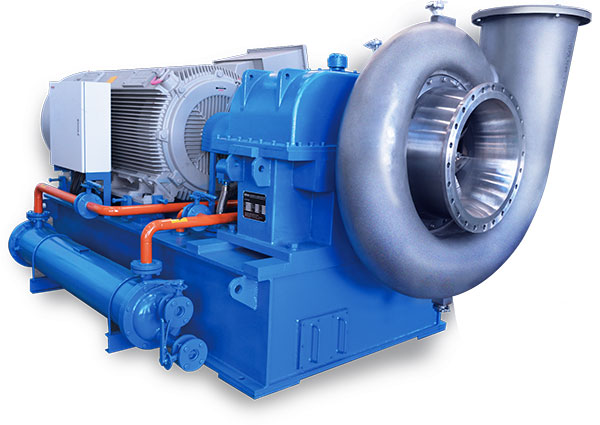 Centrifugal Steam Compressor is the core component of MVR (Mechanical Vapor Recompression) system. As the key component of the MVR system, steam compressor can improve the enthalpy of the secondary steam by compression of the secondary steam.
Through accurate calculation, accurate balance of investment and output ratio, our company design can obtain the reasonable processing capacity in evaporation system, fully utilize the function of the equipment, and achieve the best cost performance.
With leading technology, stable performance, and longer service life, LH Centrifugal steam compressor already reached the international advanced level.
LH Centrifugal Steam compressor is mainly used in pharmaceutical, food and beverage, chemical, sewage treatment, desalination and other industries.
LH steam compressor has following advantages:
Adopt typical and mature motor & gear box & compressor structure, achieve high efficient, reliable operation, and simple maintenance;
Compressor body is isolated from the atmospheric environment of the gear box, to avoid the steam pollution from the lubricating oil;
Adopt the most advanced aerodynamic design platform, customization for each application, with higher accuracy, better compatibility and fast delivery.
Popular type compressors/blower details specifications comparison
Popular type compressors/blower applied for MVR system
Type
High speed Centrifugal steam compressor
Low speed Centrifugal blower
Roots compressor
General features:

High compression ratio
Bigger mass flow
High efficiency
Easy maintenance
Better working stability
Lower working noise

Low compression ratio
Bigger mass flow
Low efficiency
Easy maintenance
Better working stability
Lower working noise

High compression ratio
Smaller mass flow
Low efficiency
Not easy maintenance
Not good working stability
High working noise

Details specifications comparison table
Temperature rise(℃)
23~25
8~10
30
Mass flow(m3/S)
≥3
≥5
≤4
Efficiency (%)
80~85
75
60
Impeller process method
Integral milling
welding
casting
Strength for rotary part
High
Low
High
Assembly accuracy
High requirement in bearing accuracy
middle
High requirement in Lobed rotor
Working stability
Better
Better
Not good
Working Noise
Lower
Lower
Higher
Maintenance
Better
Better
Not good

Remarks for high speed centrifugal steam compressor:
The lower mass flow, the higher impeller speed is required. The evaporation mass flow is much related with evaporation temperature. High frequency noise attenuation quickly.

Remarks for Roots compressor:
The higher temperature rise, the worse running stability; the gap between lobe rotors is easy to block.
Temperature rising and flow rate