Cycle 20 years
A few days ago, Leheng was awarded as an outstanding partner again by GEM Group, which is not only the witness of the profound friendship between Leheng group and GEM Group, but also the trust and praise from GEM Group to Leheng Company and our MVR evaporative crystallizer. It is the 20th anniversary of GEM, Leheng General Manager Chen Jingbo was invited to send blessings, Leheng energy saving is willing to work together with GEM Group, win-win cooperation, together for the development of new energy materials industry, to achieve carbon neutral. Leheng also wishes GEM to flourish, win day by day, and create brilliant.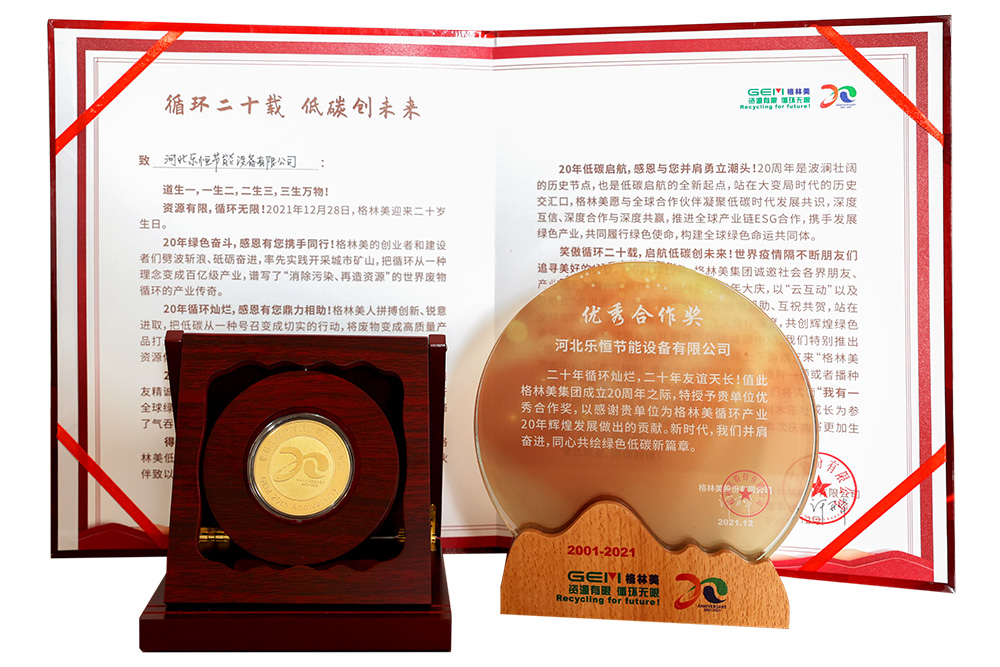 Work together to succeed
This is the second time that Leheng has won the honor of the excellent partner. In the first cooperation in 2019, Leheng and GEM have reached a good cooperative relationship. Leheng's MVR evaporation crystallization system and Leheng's professionalism have been recognized by GEM and awarded as an excellent supplier.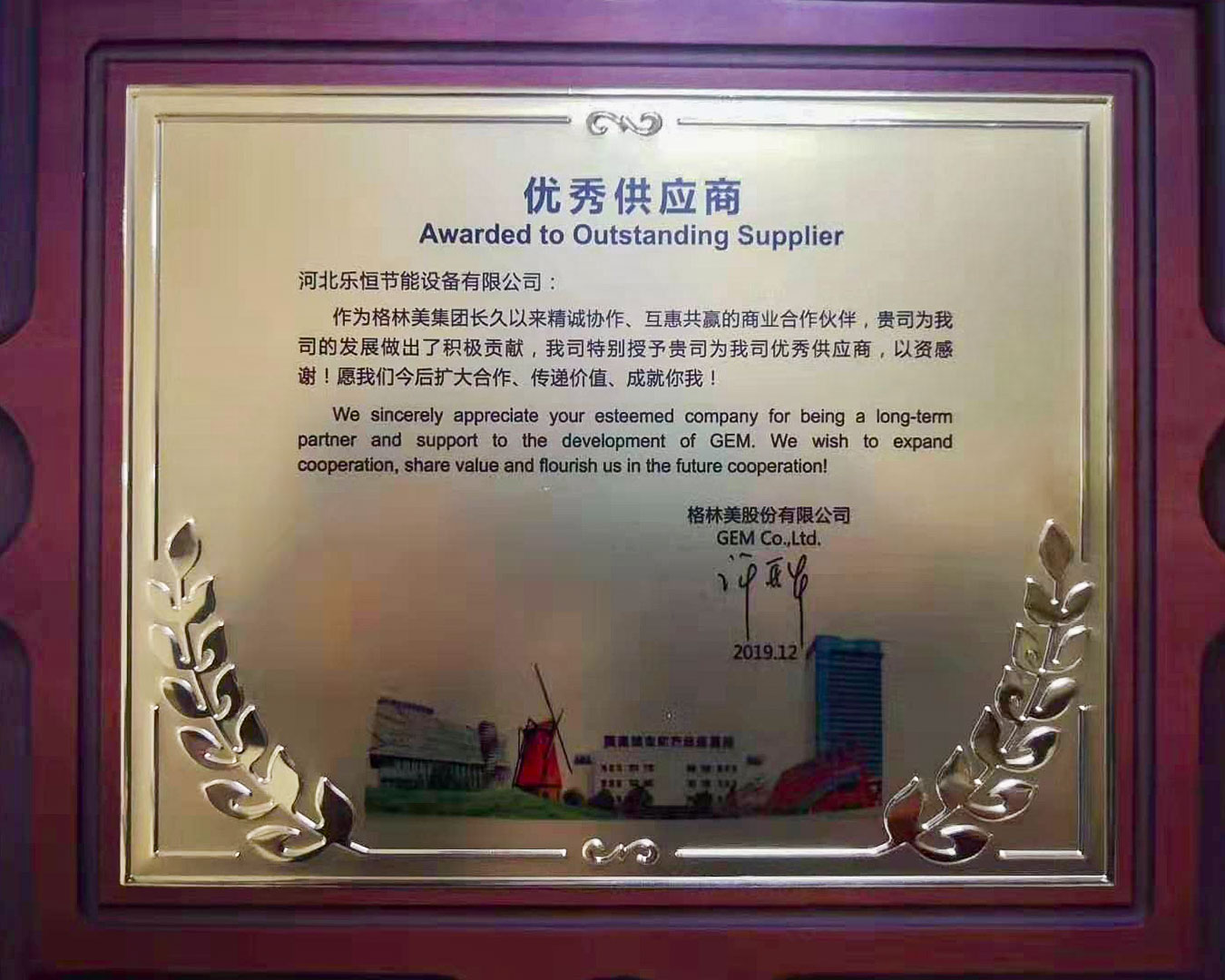 Leheng also received a certificate of appreciation from GEM for being in the same boat during the fight against COVID-19 and the resumption of work and production in 2020.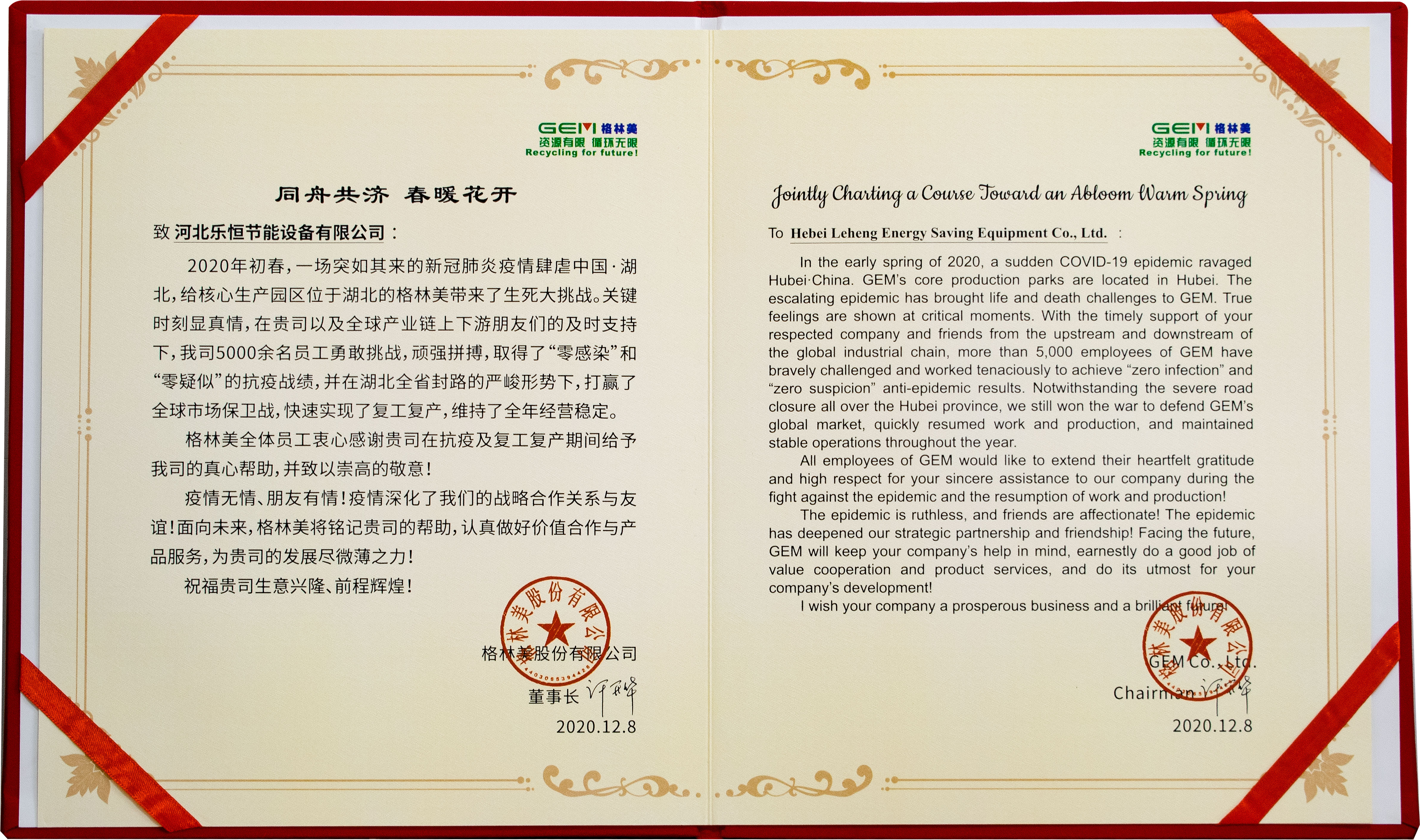 As the leading enterprise of NCM material, GEM Group has strict requirements on process and equipment. Leheng has provided GEM with several sets of MVR evaporator, MVR crystallization system, Cooling crystallization system, supporting leheng's centrifugal steam compressor to achieve the maximum evaporation capacity of 82T/h by using its advanced MVR evaporation and crystallization technology. It has helped GEM to produce high-quality nickel-cobalt-manganese salt products, including cobalt chloride, nickel sulfate, cobalt sulfate, etc., and realized the resource treatment of ternary precursor and cobaltosic oxide production wastewater.
Low carbon creates the better future
Cycle 20 years, low carbon to create the future, carbon neutrality is based on promoting the construction of a community of human destiny China bear responsibility and to the internal requirement of sustainable development of major strategic decisions, Leheng responded to an appeal by the state, jointly with GEM, Leheng is committed to providing the energy-saving MVR evaporator to help our clients realize clean production, energy saving and emission reduction at the same time, we will do our part to achieve peak carbon dioxide emissions, carbon neutrality with GEM and other cathode material suppliers in the lithium battery industry, and strive to save energy and reduce carbon emission.